About the walkers
Pawsitive Petcare - Your Pet Will Pawsitively Love It!
Darren Calver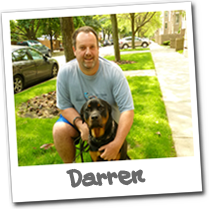 My name is Darren Calver and I'm the co-owner operator of Pawsitive Petcare along with my wife Shari. I moved from England to Chicago in 1994 and currently live in Evanston with Shari and our two dogs Frankie and Maddie.
I've worked in several fields from carpentry to massage therapy but it wasn't until I worked with animals that I knew I'd found my true career. Providing loving and responsible care to clients' animals is my everyday goal- the same care I would demand for my own dogs.
Shari Calver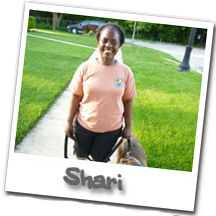 Hi my name is Shari, I'm the co-owner operator of Pawsitive Petcare. My background is in the corporate world but I jumped at the chance of joining Darren in the day to day running of the business, and have never looked back.
I've always had dogs growing up in Indianapolis, and when I moved to Chicago in 1990, my first requirement was a dog friendly building! I've met so many wonderful people through the business and worked with a wide array of animals from chickens to fish to cats, and all sizes and shapes of dog you could imagine. Regardless of the weather, spending time with our clients' pet is something I enjoy each and every day.
Gina Moore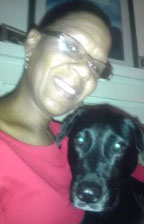 "For the love of animals!" This is why I do the job. As a child, I've always had a pet…whether it was a cat, fish or hamster. My career passions are graphic arts and jewelry designing, but after bringing my dog home at 3 months old, I knew she would make life a little better.
Before bringing home my new family member, I weighed 180lbs. Realizing I had a high energy dog, I decided to start taking her on 2 to 3 mile walks daily. I've current lost 50lbs and my dog helps me to maintain this goal! I've never looked back! Now, I have a reason to take long walks, and I don't have to walk alone! From the heart, I believe that every pet deserves to feel loved, and I naturally transfer that affection to each pet in my care.
Jake Miser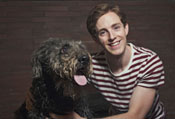 Hello, I'm Jake Miser and this is my buddy Buk (it's short for Mephisto Amadeus Bukowski). I graduated with a degree in theatre and moved to Chicago from Texas to continue doing theatre, learn about film, and explore improv options. Buk only has honorary doctorates and, coming from a shelter, his origins are unknown. But enough about him.
Growing up on a farm in the Texas panhandle we always had dogs. Sometimes we had horses, sheep, cattle, pigs, fowl, and/or cats but we always had dogs. These were some of my earliest companions and as such I learned to respect animals from a young age. I joke that my friends call me "the dog murmurer" because I excel at understanding a dog's personality and can quickly bond with it. This comes from years of interacting with an array of different animals and their many temperaments.
I'm fascinated by the perks of pet ownership. I've read that not only are you providing a home for creatures that are love incarnate and incapable of lying to you but also you will experience higher serotonin levels and probably live longer. Win-win! I'll go ahead and say it outright: I love pets. Big ones, small ones, cute ones, ugly/cute ones, mine, yours, and everything else in between. Although I've already worked with a number of breeds, I have a whole list of ones I can't wait to meet. Bottom line: I'd love to walk your dog and maybe contribute to us all living a little longer.
Dylan Naylor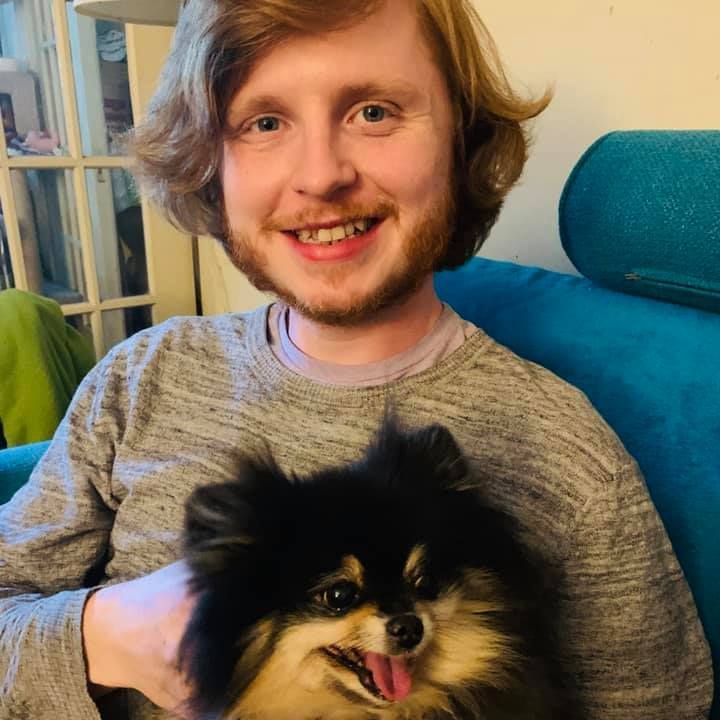 Hey there, I'm Dylan, and this is my family's dog Zelda. My first major experience with dogs was when we got Zelda about ten years ago. Up until that point we had plenty of cats, parrots, hamsters, rats, fish, and for a little while a frog, but never a dog. Zelda was by far the best pet we ever had. Other pets are great and all, but dogs are something completely different. Dogs are special.
I moved from Massachusetts to Chicago in 2017 to pursue comedy, saying goodbye to my family and Zelda. I thought it would be years before I got to take care of a dog again, but the day I moved into my first Chicago apartment, Shari called me for an interview. I'm so glad she did, because this job has been a dream come true.
I love every dog I get the chance to walk, and I enjoy having the opportunity to learn how different dogs can be. I find the history dog breeds fascinating, and will probably do some research on where your dog's ancestors are from. I also like learning about dog behavior, and figuring out hands-on how to get different dogs to trust and listen to me. Honestly though, my favorite part of the job is getting to brighten up your dogs' day, because they brighten up mine.
Andreas Korte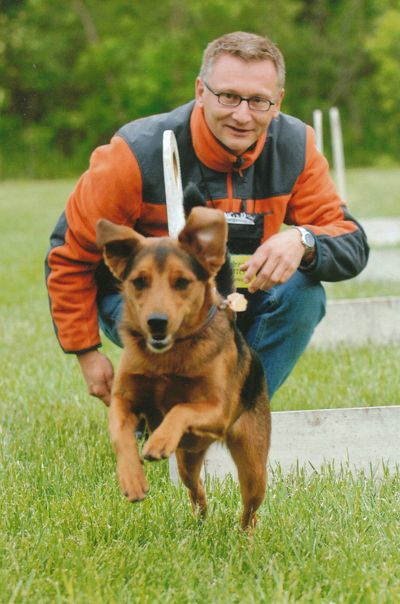 Dogs are amazing – how do they know in advance what you are going to do? Since we included a dutch sheep dog into our family - as a biologist – I was always interested to learn more about dogs.
After we moved from Germany to Evanston in 2010 I took the opportunity and use my passion to work with dogs, in the past years as a dog trainer outside of Evanston and now as a dog walker.
Each dog has its own personality - my time as a dog trainer taught me to understand the dog and only use positive reinforcement, this is a way to quickly gain a new friend.
Your dog is as much a buddy for me as our now two dogs, we adopted a second dog and now have a German speaking and an American speaking dog in our family.
Looking forward to meeting your dog and gain a new friend!
Garth Berlowitz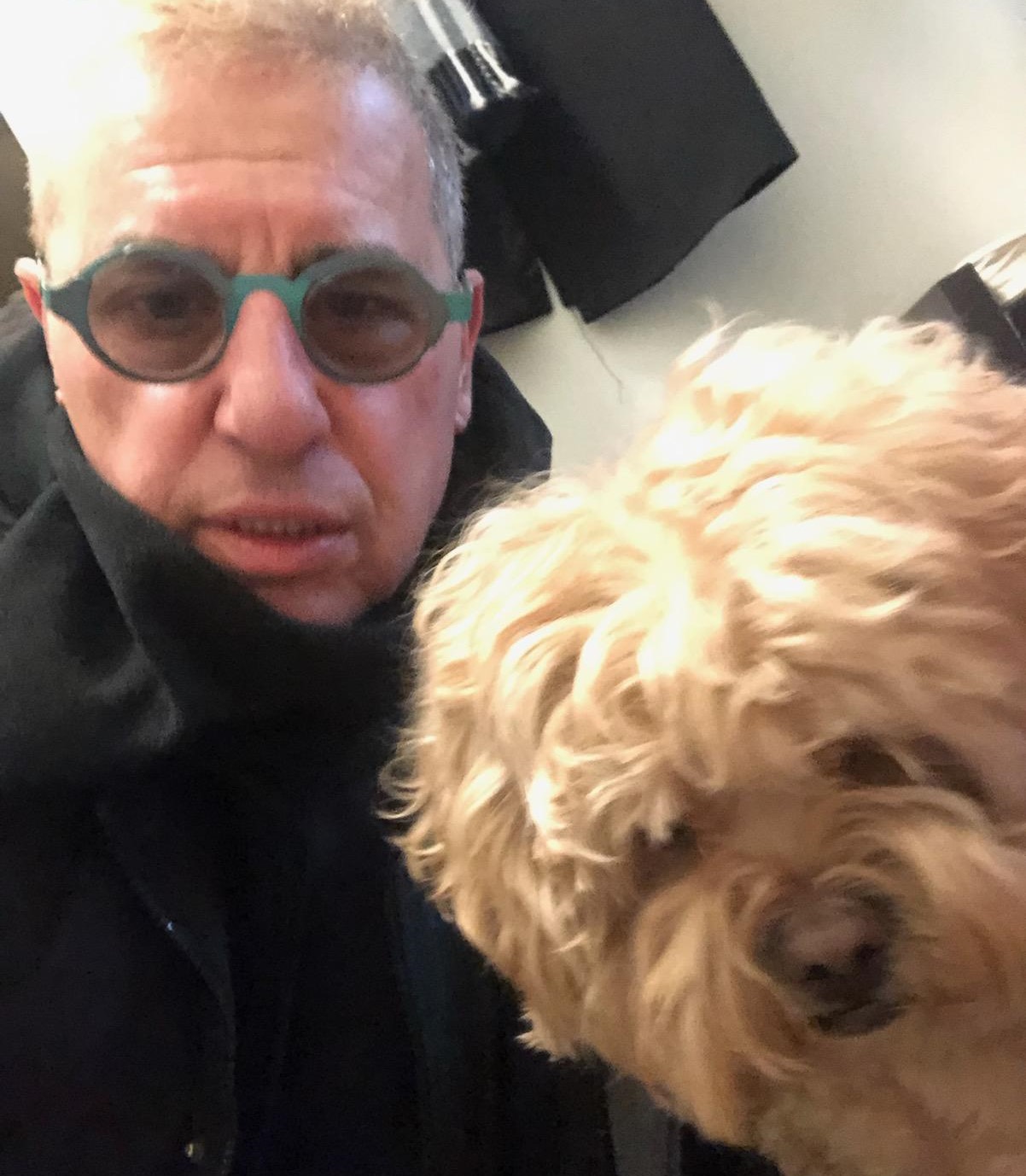 Hi my name is Garth. I'm a retired artist who started dog walking a little over a year ago at the suggestion of a friend who knew of my love for dogs. I absolutely love walking the dogs everyday and doing what ever I can to make the time spent with them an adventure. I also do pet sitting for Pawsitive Petcare clients when they go out of town. I love spoiling their pets with lots of love and attention while they are away.